Partner Programs within the ASC Training Academy
ASC Educational Partnerships bring additional resources and skills to our Training Academy platform including Commercial, Executive Leadership and Process Operations training to better represent the needs of our industry professionals at all stages of their career, with diverse roles and responsibilities.


The AIM Institute helps B2B companies achieve rapid, profitable, and sustainable organic growth. They offer a variety of training, services, and tools to equip their clients to achieve success, especially VOC skills in the front end of innovation.

Sign up for free access to AIM's B2B Organic Growth video course. The 50 two-minute videos will completely change the way your organization thinks of B2B business growth. Watch the first video in the course or subscribe (free) to the entire series.

See AIM Institutue information below for more free resources.

Current ASC members and ASC TAC Subscribers receive a 25% discount on Blueprinting Public Workshops with a trial subscription.

Institute for the Study of Business Markets delivers virtual and on-site courses and webinars, is the world's 1st and leading Institute devoted to developing and disseminating best commercial practices in B2B, especially B2B Marketing best practices. The Instructors used by ISBM for its Curricula are the world's foremost experts.

Current ASC members and ASC TAC Subscribers receive discounted access to the Mastery Curricula.

Executive leadership training provides insights, tools and strategies needed for early to mid-career, high-potential managers to lead diverse teams with confidence and effectiveness. Partnerships complement our Emerging Leaders Program adding skills for highly functioning leaders. Platform includes partner workshops and expanded ASC networking activities.

ChemOps Training program is the go-to source for training for chemical manufacturing facilities! With interactive 3D animations of process equipment, self-guided assessment exercises, user progress tracking and more, this superior, modernized training tool enables effective training and onboarding of your chemical operators.
Chemical Operations
The Society of Chemical Manufacturers & Affiliates™ ChemOps Training delivers vital, interactive training for operators and production workers. Program content improves core competencies, from basic science concepts, instrumentation and controls, risk management practices, and environmental, health and safety. ChemOps Training includes 3D animations, self-assessments, and learner progress tracking to effective training of your employees.

As capabilities and processes evolve and customer demand increases, optimized training for workers is essential to perform safely and effectively and deliver high-quality products. Watch our video to learn more, and contact ASC or SOCMA to schedule your demo today (see tab below)!


The AIM Institute is the home of New Product Blueprinting, the world's leading B2B voice of customer method. AIM has trained 10's of 1000's of B2B professionals in many of the largest companies around the world. In addition to this training, AIM offers considerable research and other resources to help companies drive their B2B organic growth.

Current ASC members and ASC TAC Subscribers receive a 25% discount on Blueprinting Public Workshops with a trial subscription.
Video Course
Join Dan Adams on a tour of 50 two-minute videos that will completely change the way you think of B2B business growth. Learn "why" change is needed, and in later chapters "how" to change.
Watch the first video or sign up to receive a new video chapter daily or weekly.
Books & Ebooks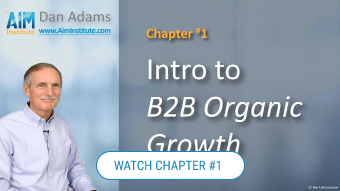 Download several free chapters of Dan Adams' landmark book, New Product Blueprinting... as well as idea-packed e-books on B2B voice-of-customer, product launch, and how to lead for growth including:
The book, 'New Product Blueprinting'
Supercharge your Stage-Gate® process
Reinventing VOC for B2B
VIEW ALL

Research
There's no need to guess what works. The AIM Institute has been researching leading practices at companies just like yours, so you can drive organic growth with confidence:
B2B Voice of Customer Skills Research Report
What Drives B2B Organic Growth
Discovery Interview Research Report
Whitepapers
If you want to pack the most mind-shifting thoughts in the shortest time, check out this suite of whitepapers. You won't find this thinking anywhere else:
Commercialize Technology
B2B vs B2C
Virtual VOC (VVOC)
Blog
You can receive thought-provoking blog posts through The AIM Institute's Monthly Newsletter, Awkward Realities. As a bonus, you'll get the brief "Coffee Break" edition each Friday: A couple sentences you can read in two sips of your coffee...and ponder for days.

VIEW RECENT POSTS
Training
New Product Blueprinting turns your employees into masters of B2B customer insight... so you can eliminate most commercial risk in new product development. Full training includes workshops, personalized coaching, e-learning and Blueprinter software.

Exclusive for CURRENT ASC members and ASC TAC Subscribers is a 25% discount on Blueprinting Public Workshops. These workshops are designed especially for you to see if Blueprinting is right for your business.

VIEW UPCOMING WORKSHOPS