ASC Certificate Program
ASC TRAINING ACADEMY CERTIFICATE (TAC) PROGRAM OVERVIEW
The ASC Training Academy Certificate Program is a 100% web-based program utilizing recorded courses ranging from one to two hours in length. Each registrant will have an online TAC Learner dashboard to track and view their courses, materials and progress to complete the required 12 courses in 12 months.
The 12-course curriculum is composed of 6 mandatory CORE courses developed exclusively for the TAC program, and 6 Focus courses selected from library within the market or technology learner is interested in. Proficiency for each course will be verified with exams, passing grade is above 80%.
Manufacturers, suppliers, distributors and end users all benefit from solid academic coursework to enhance their daily experiential learning, providing benefits to both company and professional. Employees of the following companies have participated in the TAC program at various levels.
3M
Aeroseal
Akapol
ARDEX Americas
Ashland Performance Materials
Avery Dennison
Beacon Adhesives
BeardowAdams
Bostik
Brady Corporation
Braskem
Carlisle Construction Materials
Chicago Glue & Machine
Click Bond
Consolidated Adhesives
Coroplast Tape Corporation
CNH Industrial
Covestro
CymMetrik USA
DAP
Dow
DuPont
Eastman Chemical
Emerald Kalama Chemical
Evans Adhesive Corporation
Evonik
Franklin International
GDI Adhesives
gluECO Adhesives
The Gorilla Glue Company
H.B. Fuller
Henkel
Honda R&D Americas
Hyundai-Kia America
IFS Industries
Ingevity
ITW Performance Polymers & Fluids
Jabil
John Deere
Jowat
Kraton
Lam Research
LV Lomas
MACtac
Memjet Australia
New Pig Corp.
Nitto Inc.
Novagard Solutions
OMNOVA Solutions
Owens Corning
Palmer Holland
Permoseal (Pty) Ltd
Pidilite Industries Ltd.
Pinova Inc.
Plascore Inc.
Polymeric Systems
PPG Industries
RH Adhesives
Royal Adhesives & Sealant
Saint Gobain
Sashco
Shurtape Technologies
Siemens Gamesa
Sika
Spinnaker Coating
Steelcase Inc.
STI Polymer
Sunstar Americas
TE Connectivity
ThreeBond International
Toagosei America
Unilia Canada Fuel Cells
Wacker
Winpak
Worthen Industries
Zeon Chemical
Zerust
(Recent Graduates in bold)
Faimieda Abbass, Permoseal
Sarah Abdala, Bostik
Austin Adams, H.B. Fuller
Tyler Adams, Avery Dennison
Cyrus Afraz, H.B. Fuller
Sahil Agrawal, H.B. Fuller
Matthew Ahearn, Henkel
Arianna K. Ahl, H.B. Fuller
Aaron Ala, STEELCASE
ammar albayati, Avery Dennison
Lauren Alexander, Ashland
Valerie Alexis, Henkel
Jessica Alvarez, Bostik
Kyra Anderson, H.B. Fuller
Russell Anderson, Brady Corporation
Travis Andrus, Avery Dennison
Diana Angrino, Bostik
Jennifer Andon, Worthen Industries
Kate Anton, H.B. Fuller
Javier Aricha Saiz, H.B. Fuller
Chris Armstrong, Ingevity
Gabrielle Ashley, Eastman Chemical
Emily Aube, H.B. Fuller
Arun Awasthi, Bostik
Amy Bahe, 3M
Clark Baily, GDI Adhesives
Aayushi Bajpayee, 3M
Matt Baker, Shurtape
Tyler Baker, Ashland
Saikat Banerjee, DuPont
Matthew Bankaitis, Henkel
Ethan Banks, DAP
Derek Barber, DAP
Rebekah Bare, H.B. Fuller
Ben Barnd, H.B. Fuller
Nicholas Barnes, Gorilla Glue
Lisa Bartlett, Sunstar Engineering Americas
Westley Bauer, H.B. Fuller
Gerry Bechard, Henkel
Amanda Beekman, Brady Corporation
Ivan Beltran, Jabil
Brittany Bellanger, Coroplast
John Berring, Unilia Fuel Cells
Michael Bergman, DAP
Kavitha Bharadwaj
Benjamin Biber, Henkel
Jorina Bielarz, H.B. Fuller
Jennifer Bijkerk, Avery Dennison
Julie Billing, Spinnaker Coating
Amelia Bitant, GDI/Ellsworth
Timothy Blackford, PPG
Achim Boehme, 3M
John Boscarino, Jowat
Greg Bodager, Avery Dennison
Paul Bodager, Avery Dennison
Anna Bollino, DAP
Anna Bosak, H.B. Fuller
John Boscarino, Jowat
William Bottorf, Avery Dennison
Cory Bower, Henkel
Jeffrey Bowers, Avery Dennison
Stephen (Thad) Branch, Eastman Chemical
Lila Branchaw, H.B. Fuller
Arielle Breight, Bostik
Antoine Briand, Avery Dennison
Daniel Brim, Polymeric Systems
Matt Brisson, Ashland
Kristi Brittain, Polymeric Systems
Austin Britton, Eastman Chemical
Luke Brown, H.B. Fuller
Sarah Brown, Bostik
Amy Bruewer, Gorilla Glue
Zachary Brummer, H.B. Fuller
Anthony Brungard, Avery Dennison
Samuel Bryson, H.B. Fuller
Sandra Brzezinski, 3M
Alexis Bultman, DAP
Jayne Bunge, H.B. Fuller
Jack Bye, H.B. Fuller
Christian Bykovets, Sika
Ronisha Byrd, Franklin
Juan Cabrera, Bostik
Cynthia Cain, Henkel
David Callihan, Avery Dennison
Kellie Campbell, Avery Dennison
Thomas Canero, H.B. Fuller
Patrick Canny, H.B. Fuller
Laurie Cantolina, Avery Dennison
James Carson Jr, Avery Dennison
Jessica Carson, Threebond
James Carter, Sunstar
Marcela Castano, Avery Dennison
Nathan Castro, Henkel
Ruth Cearfoss, DAP
Kaelyn Chahalis, H.B. Fuller
Julie Tang Chan, Consolidated Adhesives
Maureen Chan, DAP
Kyle Chapman, H.B. Fuller
Dan Chen, Bostik
Yaoyao Chen, 3M
Bill Cheng, Eastman Chemical
Yuan Cheng, Lam Research
Anna Cherian, Avery Dennison
Joe Cherveny, H.B. Fuller
Louis Cheung, Matrix
Ryan Cinchowicz, Coroplast
Jared Clark, DAP
James Clark, Altria
Maxwell Clark, Shurtape
Mackenzie Claypool, H.B. Fuller
Emma Cleary, Avery Dennison
Matt Clements, Avery Dennison
Erin Coleman, Gorilla Glue
Kelly Collins , Bostik
Larry Collins, Jowat
Allison Condie, PPG
Danielle Conneely, Avery Dennison
Greg Core, Bostik
Pepa Cotanda, Dow
Matthew Coury, DAP
Gregory Currie, Avery Dennison
Lucas D'Almeida, Ingevity
Josh Daitzman, Carlisle Construction Materials
Casey Dalton, Worthen Industries
Dan Dang, Henkel
Jason Daniels, Permoseal
Bristee Das, Henkel
Debra Davidson, Emerald
Jack Davies, Ashland
Kathleen Davis, Bostik
Yalonda Davis, H.B. Fuller
Mallory Day, Gorilla Glue
Henk-Jan de Jager, Eastman Chemical
Declan Dean, Avery Dennison
Lieselot Decabooter, Eastman Chemical
Gary DeFrance, H.B. Fuller
Kevin Del-Bene, H.B. Fuller
Nathan DeLisle, H.B. Fuller
Heloise Deloraine, 3M
Jun Deng, PPG
Neerali Desai, Avery Dennison
Valérie Detrebecq, 3M
Sean Devaney, H.B. Fuller
Lauren deVries, Royal Adhesives & Sealants
Ryan DeWitt, Shurtape
Nishad Dhopatkar, Avery Dennison
Giselle Diaz, Sunstar Engineering Americas
Josiah Diekema, H.B. Fuller
Jennifer Dimacali, Winpak
Julie Dinh-Ngoc, Saint Gobain
Hao Ding, Henkel
Ninad Dixit, Henkel
Travis Dodson, New Pig
Jenny Donoghue, DAP
Matthew Donoughe, Bostik
Jim Doogan, Gorilla Glue
Joe Dragonjac, H.B. Fuller
Phillip Drexler , H.B. Fuller
Mariah Durrant , Avery Dennison
David Duvall, H.B. Fuller
Katie Eberhard, Avery Dennison
Shawna Eckman, H.B. Fuller
Marisol Espinales, H.B. Fuller
Andrew Etwell, Bostik
Kelsey Evans, DAP
Jennifer Everson, H.B. Fuller
Joseph Fallon, DAP
Heather Fant, Beardow Adams
Brad Farrell, Emerald
Kathleen Farris, Bostik
Shane Faulkner, Sunstar
Anthony Federico, DAP
Christopher Fellin, Henkel
Kelven Feng, Eastman Chemical
Tom Ferguson, H.B. Fuller
Russ Fitzgerald, Ingevity
Jaden Force, DAP
Eddie Ford, Adaseal
Chad Forsthoefel, Gorilla Glue
David Fortman, PPG
Travis Francy, Jowat
Emilie Fritz, 3M
Casey Frommeyer, Henkel
Toby Funston, Memjet
Nicole (Gagnon) Bousu, H.B. Fuller
Tom Gaide, 3M
Steven Gailbreath, Ingevity
Natalie Ganio, Henkel
John Garcia, Bostik
Chinmayi Gawde, H.B. Fuller
Julia Gennaro, H.B. Fuller
Yara Ghoussoub, Avery Dennison
Raoul Gijzen, Avery Dennison
Stephen Gilbert, Bostik
Caitlin Gilbertson, H.B. Fuller
John Gimler, Bostik
Natalie Gjermo, H.B. Fuller
Mackenzie Glasgow, Gorilla Glue
Richard Glass, DAP
Peter Goldberg, H.B. Fuller
Nicholas Gottfried, H.B. Fuller
Jeffrey Goulette, Bostik
Delaney Graham, Avery Dennison
Joseph Griese, H.B. Fuller
John Grinde, Bostik
Qun Gu, Avery Dennison
Bruce Guan, DAP
David Guaderrama, IFS Industries
Joseph Gunn, Henkel
Ehab Hadi, Jowat
Erik Haffenden, Franklin International
Andrea Hagood, Eastman
Matthew Halverson, H.B. Fuller
Rich Hamann, Bostik
Seth Hamilton, H.B. Fuller
James Hammond, H.B. Fuller
Matthew Haney, Royal Adhesives & Sealants
Justine Hanlon, H.B. Fuller
Harjeet Hansi, Jabil
Brian Harris, Sika
Lauren Harris, Polyguard
Wendy Harris, DAP
Matthew Hartley, Henkel
Jessica Hayes, Jowat
Christian Heering, 3M
Andrew Heffernan, Momentive
Luke Helgerson, H.B. Fuller
Edward Hellerman, PPG
Christina Herrmann, H.B. Fuller
Alaina Hetrick, DAP
Stuart Hickman, Ashland
Taylor Hodne, H.B. Fuller
Suzanne Holt, Covestro
Michael Holtey, H.B. Fuller
Maya Horne, DAP
Azra Hosic, DAP
Denis Hostetter, Sunstar Engineering Americas
Ying Hu, Avery Dennison
Morgan Hughes, H.B. Fuller
Joyce Huh, Ashland
Grant Humbert, H.B. Fuller
Rachel Irvin, H.B. Fuller
Katherine Jacobson, H.B. Fuller
Abee James, Beardow Adams
Neil Janetski, Bostik
Sylvie Janse, Avery Dennison
Thijs Janssens, Avery Dennison
Doug Jeff, Kraton
Justin Jennings, John Deere
Kirsten Jensen, H.B. Fuller
Olivia Jobes, Ingevity
Jennifer John, Bostik
Nick Johnson, H.B. Fuller
Christopher Johnson, Ingevity
Marcus Jones, Jowat
Rory Jones, Gorilla Glue
Mike Jordan, Henkel
Andrea Jorissen , H.B. Fuller
John Juco, Henkel
Adrian Jung, 3M
Kai Kannen, 3M
Alex Karczewski, H.B. Fuller
Masafumi Karita, Bostik
Peter Kariuki, Worthen Industries
Adam Karstetter, Avery Dennison
Kelly Kehrein, Bostik
Jennifer Kelly, H.B. Fuller
Rajesh Kendhe, Metlok
Alan Kendrick, Resinall
Zunaid Khan, Permoseal
Prath Kharkar, Acelity
Randy Kilgariff, H.B. Fuller
Elliot King, Novagard
Lisa Kiser, Beacon Adhesives
Marta Kisiel, 3M Poland
David Kleiner, Sunstar Engineering Americas
Mena Klittich, Avery Dennison
Stephan Klotzbach, Eastman Chemical
Karen Kmetz, Sunstar Engineering
Moira Knitter, Gorilla Glue
Cyrielle Kolbecher, Bostik
Crystal Koontz, H.B. Fuller
Kaitlin Koran, H.B. Fuller
Samyukta Koteeswaran, H.B. Fuller
Brandon Kowalski, Bostik
Ben Krige, Permoseal
Danny Krijgsman, Avery Dennison
Joseph Kriley, PPG
Pia Kroger, 3M
Matthew Kryger, 3M
Sam Kuhn, H.B. Fuller
James Lambert, H.B. Fuller
Austin Lammers, Ashland
Meggan Larson, H.B. Fuller
William Laurishke , Bostik
Alex Lavieri, H.B. Fuller
Megan Lawson, H.B. Fuller
Agnes Lechwar, Wacker Chemical
Simon Leclerc, Matrix
William Ledford, Henkel
Jerry Lee, Avery Dennison
Yu-Min Lee, Cymmetrik
Edward Lemen, Sunstar Engineering Americas
Jordan Leo, Gorilla Glue
Kitty Leung, 3M
Ze Li, H.B. Fuller
Patrick Ligons, Sunstar
Taylor Lind, Henkel
Yuwei Liu, Royal Adhesives & Sealants
Edward Lockowitz, Polymeric Systems
Yen San Loh, Jabil
William Lominac, Shurtape
Anthony Long, Novagard
Emma Lovett, John Deere
Jennifer Luhman, H.B. Fuller
Sophia Lupetin, Beacon Adhesives
Annelies Luyts, Avery Dennison
Chin Ly, DAP
Chris Lynch, MacTac
Nicholas Lynch, H.B. Fuller
Phuc Ma, Bostik
Felipe Macedo, Bostik
Annabel Mack, Ashland
Osvaldo Macias, H.B. Fuller
cynthia maclellan, Ashland
Molly Magnuson, H.B. Fuller
Madhuchanda Maiti, John Deere
Ryan Mahoney, Gorilla Glue
Nichole Makrides, Gorilla Glue
Thomas Malensek, Bostik
Kelly Malzewski, Brady Corporation
Gaynor Manuel, Permoseal
Tony Mao, 3M China
Roxana Martin, H.B. Fuller
Alisha Martinez-Christian, H.B. Fuller
James Manocchia, GDI Adhesives
Kristen Mauch, Ashland
Christopher Mazurek , Bostik
Catherine McCabe, Henkel
Ryan McCall, Sunstar
Brittany McCarthy, Henkel
Tamara McCartney, Avery Dennison
Carla McCracken, Evans Adhesive
Tim McGovern, Gorilla Glue
Jonathan McIntosh, Gorilla Glue
James McIntyre, Shurtape
Maggie McKenney, Bostik
Madalyn McKenzie, Henkel
Robert McKinley, Pinova
Lori Mclean, H.B. Fuller
Ryan McMillan, Jowat
William McNeill, Ingevity
Robert McNew Jr, Polymeric Systems
Susan McNichols, H.B. Fuller
Marcos Cortes Medina, Owens Corning
Jeffrey Meeker, H.B. Fuller
Sara Mehretab, Avery Dennison
Brinda Mehta, Carlisle Construction Materials
Erik Menanno, Ingevity
James Mendenhall, Henkel
Alexandre Mendes, Bostik
Christin Mertens, 3M
Robbie Meul, Eastman Chemical
Marie Meyer, H.B. Fuller
Madelynn Mikkalson, H.B. Fuller
Michael Miller, Bostik
Rebecca Millward, Henkel
Kayla Minichini, Wacker
Brian Minix, Bostik
Brandon Mitchell, Resinall
Robin Moenen, Avery Dennison
Brian Montag , Eastman Chemical
Giuseppe Montella, Apple
Sean Moore, Gorilla Glue
Jennie Morey, Scott Bader
Chue Moua, H.B. Fuller
Zach Moulton, IFS
Zachary Muetzel, H.B. Fuller
Caleb Muhlenkamp, Threebond
Nathan Muhr, Bostik
Ramachandra MUKKAMALA, Avery Dennison
Thomas Muller, ONA Polymers
Rajgopal Munigeti, Avery Dennison
Padma Murali, H.B. Fuller
Morgan Murphy, Henkel
Alan Nahkala, H.B. Fuller
Carlos Navarrete, Bostik
Sinesipho Ndabambi, Permoseal
Chaz Nelson, H.B. Fuller
Hanna Nelson, H.B. Fuller
Jonathan Nelson, Threebond
Mark Nepermann, Bostik
Deirdre Newton, Emerald
Christopher Nicholas, Jowat
Jessica Nolan, Matrix
Joel Norton, Bostik
Shannon Notaro, Shurtape Technologies
Katrina Nowak, H.B. Fuller
Michael Nowak, H.B. Fuller
Chase OBrien, 3M
Sean O'Dell, Avery Dennison
Kerry O'Donnell, Avery Dennison
Natalie Olvera, H.B. Fuller
Hannah Opdenbosch, Eastman Chemical
Joe Opdyke, Bostik
Emilio Ortiz, ONA Polymers
Beverly Ostrowski, H.B. Fuller
Karoline A. Ostrowski, 3M
Jonathan Ottarson, Bostik
Kimberly Packard, Avery Dennison
Julie Padrnos , H.B. Fuller
Rutika Padsalgikar, H.B. Fuller
Loubna Pagnotti, PPG
Vincent Pang, Henkel
Sarah Paquin, Avery Dennison
Deborah Paskiewicz, Bostik
Renuka Patil, Henkel
Mary Rose Patwell, Henkel
Paul Pavka, Franklin International
Adam Pederson, H.B. Fuller
Tess Pederson, H.B. Fuller
Yarred Pel, Eastman Chemical
Ville Peltonen, H.B. Fuller
Mara Penner, H.B. Fuller
Barbara Pereta, H.B. Fuller
Nickolas Peterson, H.B. Fuller
Patrick Philipp, Ingevity
Sophorn Pin, H.B. Fuller
Michael Planckaert, Avery Dennison
Stephanie Ploch, Bostik
Aaron Plumley, H.B. Fuller
Jennifer Plummer, Henkel
Laura Polchinski, Wacker
Alethea Pollock-Downer, Henkel
Alexander Pont, John Deere
Kyle Posselt, Emerald
Andrew Potter, DAP
Alicia Powers, Eastman
Garrett Price, H.B. Fuller
Michael Price, H.B. Fuller
Nicole Prichard-Coleman, Gorilla Glue
Steve Prosser, Bostik
Kelly Provenzano, Gorilla Glue
Andrew Prybylowski, H.B. Fuller
Sarah Pudas, H.B. Fuller
Karl Putnam, GDI Adhesives
Jenny Qiu, 3M
Mir Quddus, Shurtape
Torsten Quinlan, Highland Industries
Nathan Ramsey, Bostik
Courtney Ransom, Bostik
Bradley Ranville, Winpak
Rahal Rasheed, MacTac
Rasheed Rasheed, MACTAC
Kevin Ray, Bostik
Hussein Raychouni, Hyundai
Simone Raynoschek, 3M
Chip Reisman, H.B. Fuller
Nathaniel Rhine, Avery Dennison
Thomas Ribelli, Avery Dennison
Emily Rice, Wacker
Benjamin Richardson, Aeroseal
Holland Richner, H.B. Fuller
Marty Rintoul, Resinall
Tim Robertson, Eastman
Samantha Rockwell, Avery Dennison
Nicholas Rodell, Bostik
Ricardo Rodriguez, Henkel
Daniel Roethle, Bostik
Liz Rogalski, Bostik
Tom Rogers, Shurtape
Anthony Lopez Rojas, Henkel
Brad Rosen, Bostik
Keisha Ross, Avery Dennison
Alexander Roux, Bostik
Meng Rudd, Avery Dennison
Chris Rumsey, Plascore
Blake Rupard, Bostik
Kate Ryan, H.B. Fuller
Isabel Ryde, H.B. Fuller
Elizabeth Ryne, H.B. Fuller
Victoria Sabo, Bostik
Scott Sales, Bostik
Luis Sanchez, Polyguard
Alessandra Saponara, H.B. Fuller
Jason Schaner, Avery Dennison
Robert Scheufler, Henkel
Sarah Schloop, H.B. Fuller
David Schroeder, H.B. Fuller
Jessilyn Schroyer, Avery Dennison
Joseph Schwob, H.B. Fuller
Chelsey Sear, Covestro
Kimberly Secrist, Bostik
Vikram Seshadri, Eastman Chemical
Joshua Sexton, Sunstar Engineering Americas
Ahmad Shaaban, 3M
Kunal Shah, Avery Dennison
Siva Shanmugam, Avery Dennison
Colby Shelmire, Avery Dennison
Tino Shen, 3M
Dayana Shikwana, 3M
Bobbi-Jo Shortledge, Avery Dennison
Koos Siera, Eastman Chemical
Caroline Silvestro, H.B. Fuller
Lindy Simonson, H.B. Fuller
Andrew Sinclair, Worthen
Ronnie Singh, Zerust
Norman Singleton, Permoseal
Victoria Singleton, Threebond
Nishchay Sinha, Metlok Private
Brandon Siringer, PPG
Matthew Sisk, Polymeric Systems
Sarah Skrzyniarz, Henkel
Sarah Slate-Bolton, Sunstar
Melissa Smith, Emerald
Stephanie Smith, Shurtape
Dev Solanki, Henkel
Marc Somers, Eastman Chemical
Anitha Sookdeo, Permoseal
Adam Sorrentino, Henkel
Aaron Soya, Avery Dennison
Jonathan Spease, Henkel
Andrew Spendlove, Avery Dennison
Angelina Sprecher, DAP
Sascha Sprott, 3M Deutschland
Joseph Squires, Henkel
Jared Steed, Ashland
David H. Stenzel, H.B. Fuller
Cindi Stremski, MacTac
Jason Strobel, Avery Dennison
Sarah Strother, Emerald
Justin Stroup, New Pig
Aaron Sulla, Royal Adhesives & Sealants
John Sundeen, H.B. Fuller
Joann Sutyak, Henkel
Emily Swihart, Sunstar Engineering Americas
Masayoshi Takano, TA Instruments Japan
Jamie Tancredi, Nitto
Jing Tang, H.B. Fuller
Vasily Tarasyuk, H.B. Fuller
Boris Tasch, 3M Deutschland
Jim Taulman, H.B. Fuller
Laura K. Taylor, Henkel
Patricia Tegeder, 3M
George Teng, DAP
Hannah Tepley, Henkel
Nate Theriault, Worthen Industries
Danielle Thompson, H.B. Fuller
Lyndi Thompson, H.B. Fuller
Sandor Tilajka, Avery Dennison
Yuhua Tong, Avery Dennison
Ann Toomey, Ashland
Joe Tordella, Bostik
Jenna Towslee, Avery Dennison
Jessica Tracy, Sunstar Engineering Americas
Ronnie Tripp, Threebond
Scott Tunney, Sashco, Inc.
Cristina Uribe, Bostik
Jordan Ustaszewski, Henkel
Nicholas Valente, HB Fuller
Spencer Valenti, Henkel
Seth Valenziano, H.B. Fuller
Josh Van Benschoten, H.B. Fuller
Niels Van Craen, Avery Dennison
Kevin Van Craen, Avery Dennison
Vicky Van de Pol, Avery Dennison
Hidde van der Horst, Avery Dennison
Daniel Van Dyke, H.B. Fuller
Jaap van Harten, Avery Dennison
Emily VanCampen, H.B. Fuller
Kayla VanDyke, H.B. Fuller
Phong Vang, H.B. Fuller
Leigh Vaughn, Bostik
Peter Verveer, Avery Dennison
Jean-Francois Vincent, LV Lomas
Christopher Viox, Gorilla Glue
Nicholas Vogt, H.B. Fuller
Constantin Voll, 3M
Kimberly Voss, H.B. Fuller
Katie Walker, IFS Industries
Danielle Walkiewicz, Click Bond
Brian Walsh , Bostik
Luke Wallner, H.B. Fuller
shanshan wang, Avery Dennison
xin wang, Bostik
Connor Ward, H.B. Fuller
Emer Ward, Henkel
James Waweru, Sunstar Engineering Americas
Amanda Weaver, Avery Dennison
Sam Weaver, Bostik
Jacob Weber, H.B. Fuller
Jarno Weemers, Eastman Chemical
Jeff Weilage, H.B. Fuller
Erika Wetzel, Gorilla Glue
John Widders, Ingevity
Michael Wiechecki, Polymeric Systems
Jesika Wilhelm, CNH Industrial
Matt Wilkinson, Avery Dennison
Melissa Willen, DAP
William Williams, Ingevity
Jessica Wilson, H.B. Fuller
Kyle Wilson, DAP
Landen Wilton, H.B. Fuller
Michelle Wisdo, Polymeric Systems
James Wleklinski Jr, Bostik
Brandon Womack, H.B. Fuller
Desiree Wood, Royal Adhesives & Sealants
Tyler Wood, USGPO
Adam Worley, Shurtape Technologies
Michael Wright, H.B. Fuller
Camelia Wu, Henkel
Longxi Xiao, Ingevity
Bekah Yang, Avery Dennison
Junwei Yang , Avery Dennison
Zang Yang, H.B Fuller
Andrew Yeater, Franklin International
Brandon Yocum, Franklin International
Carl Youngdale, Jowat
Edward Yu, Bostik
Jocelyn Yuen, Henkel
Ramiro Zamora, Ashland
Ping Zhang, Avery Dennison
Boran Zhao, H.B. Fuller
Zhikai Zhong, Shurtape
Haiying Zhou, H.B. Fuller
Tianxia Zhu, Ashland
Steve Zidek, Worthen Industries
Anna Zieba, H.B. Fuller
Jari Zoller, HB Fuller
Garrett Zopp, Brady Corporation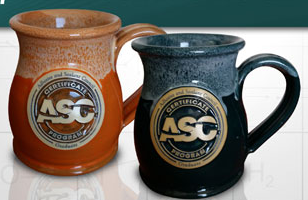 Candidates who pass the course exams will receive a TAC certificate; the designation as an adhesive and sealant ASC TAC graduate; and recognition on ASC's website, national conventions and short courses.
TAC Program Graduates also receive a hand crafted, custom graduate mug to commemorate completion of the education program!