Back to Online Store
Hot Melt Short Course
Past Short Course Proceedings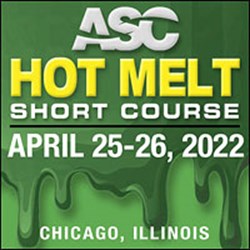 Missed the 2022 Hot Melt Short Course?
Purchase the presentations here!
ASC Members: $295 | Non members: $495
This course presents formulation strategies, based on application and performance requirements for a variety of hot melt adhesive markets by industry experts. Learn how plasticizers, tackifiers and waxes are used to enhance base polymers for optimized processing and properties and how to evaluate the mechanical and rheological behavior of hot melts and resulting bonded assemblies.
View the

Course Agenda

for a complete list of topics covered in the course.
Once the transaction is complete you will receive an email with a link to the presentations.
---