Back to Events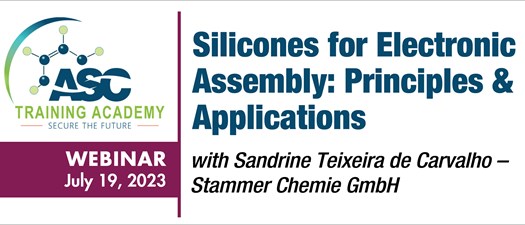 Silicones for Electronic Assembly: Principles & Applications Webinar
Webinar will highlight specific characteristics & properties of electronics
Wednesday, July 19, 2023
10:00 AM - 11:00 AM (EDT)
You will receive an email with a link to the GoToWebinar form once your registration is processed
* Registration open until 7/19/23 at 10:00 AM ()
Event Details
Silicones are broadly used in electronics assembly to prolong the life of modules and enhance safety due to their intrinsic physical properties such as dielectric strength, heat stability and flame retardancy. Silicone materials can either protect, bond and/or conduct heat of electronics parts in versatile high value applications such as automotive, aerospace or communication.
This Webinar will highlight the specific characteristics and properties of silicone polymers in electronics. The Webinar contains case studies with good practice recommendation to illustrate some important material properties, such as (1) an efficient moisture protection of modules, (2) management of the coefficient of thermal expansion and (3) surface preparation to improve adhesion performance.
The different forms and chemistries of silicones commercially available to serve electronic applications are reviewed (1) Adhesives, (2) Encapsulants / Gels, (3) Conformal Coatings and (4) Thermally Conductive materials. Their similarities (e.g., the need for developing a strong interfacial contact with the substrate to assure protection) as well as their differences (e.g., shock absorbing ability) is explained.
Objectives:
Attendees will-
Learn the advantages and limitations of Silicones in electronics
Be able to understand the different type of cure chemistries commercially available
Learn best practise for a reliable usage of silicone materials
Gain sufficient knowledge to make a successful material selection
Be able to identify a suitable silicone material in respect of form, physicals properties and processability for a variety of electronics applications
Agenda:
Key Silicone properties for electronics applications
Case Study I: Moisture Protection
Case Study II: Coefficient of Thermal Expansion
Case Study III: Surface Preparation to improve Adhesion performance
Cure Chemistries: (1) Hydrosilylation one part, (2) Hydrosilylation two parts, (3) Condensation one part, (4) Condensation two parts, and (5) Radical
Comparison of silicone forms (1) Adhesives, (2) Encapsulants / Gels, (3) Conformal Coatings and (4) Thermally Conductive materials
Who Should Attend:
This webinar is highly applicable to professionals in the assembly, transportation, electronics,aerospace and communication industries. Professionals in technical roles, manufacturing and process engineering will gain an in depth knowledge of the subject matter.
SPEAKER
Sandrine Teixeira de Carvalho
Stammer Chemie GmbH