Back to Events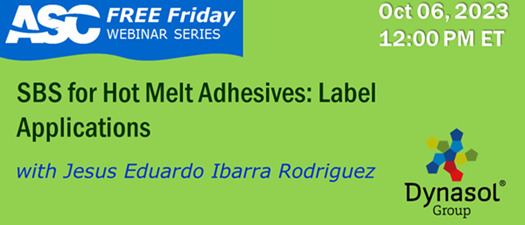 SBS for Hot Melt Adhesives: Label Applications - FREE Webinar
Friday, October 6, 2023
You will receive an email with a link to the GoToWebinar form once your registration is processed
* Registration open until 10/6/23 at 12:30 PM (EST)
Event Details
This a Free to Attend webinar for everyone.
Dynasol Group promptly addresses adhesive market demands with its specialized SBS & SBR products. These offerings serve as an exceptional alternative for food-contact applications, fully compliant with EU Regulation No 10/2011, effectively preventing MOSH & MOAH migration. Moreover, we continuously explore innovative adhesive formulations for SIS-free labels, featuring outstanding adhesion and stability, while eliminating the issue of bleeding during the cutting and die-cutting process. Lastly, we present our SBS adhesive solutions which exhibit remarkable operational flexibility, and cater to low-temperature or freezable applications.
Learning Objective:
Gain a comprehensive understanding of the scope of Styrenic Block Copolymers (SBCs) in the Hot Melt adhesive market, particularly for label applications.
Explore the diverse formulation options available for oil-free Hot Melt adhesives (MOSH & MOAH Free), specifically designed for applications involving food contact
Acquire an understanding of the various alternative formulations of Hot Melt adhesives for label applications, with a complete substitution of SIS (Styrene-Isoprene-Styrene)
Grasp the operational flexibility of SBS (Styrene-Butadiene-Styrene) for formulating Hot Melt adhesives while evaluating their performance in low-temperature or freezable applications
Agenda
SBC in Adhesive Applications
Adhesive formulation Composition
Product Portfolio for SBR & SBS
Oil Free HMA for labels with expected food contact
SBS for HMPSA, SIS full Substitution
SBS for HMPSA, Cold & Freezable applications
Who Should Attend:
This webinar will be applicable to formulators and scientists in Paperboard & packaging industry, particularly to those working with labels. Professionals in technical service & applications and managers & directors in theses divisions will gain the valuable information on the topic.
SPEAKER
Jesús Ibarra
Senior Technician in Application Development, Dynasol Group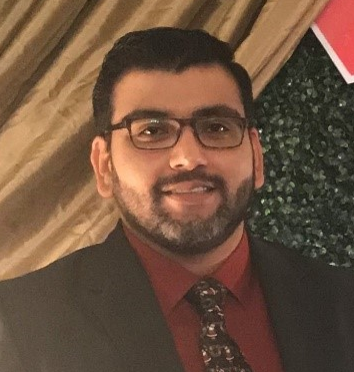 Jesús Ibarra is a Senior Technician in application development at Dynasol Group, specializing in synthetic rubber for adhesives and sealants applications. With 13 years of experience in rubber technology within our group, Jesús holds a B.S. in Chemical Engineering from the Technological Institute of Ciudad Madero (Tamaulipas, México).