Back to Events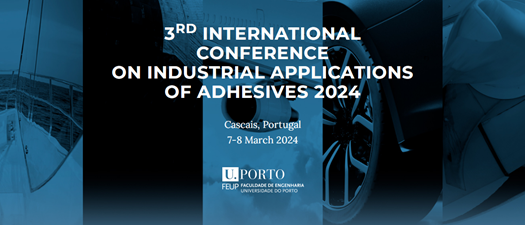 3rd International Conference on Industrial Applications of Adhesives 2024
Applications of adhesive bonding on industrial applications
Thursday, March 7, 2024
to Friday, March 8, 2024
Event Details
The 3rd International Conference on Industrial Applications of Adhesives 2024 will take place in Cascais (Portugal) 7-8 March 2024. The conference venue is the 5 stars hotel Cascais Miragem, which offers excellent facilities for high quality scientific interactions. The hotel is located in front of the Atlantic Ocean overlooking Estoril and Cascais Bay. It is just 30 minutes from Lisbon's international airport.

This conference is held every two years. The conference is chaired by Lucas F. M. da Silva and co-chaired by R. D. Adams (University of Oxford, UK), Chiaki Sato (Tokyo Institute of Technology) and Prof Klaus Dilger (Technische Universität Braunschweig, Germany).
The focus is on applications of adhesive bonding in the industry such as automotive, aeronautic, railway, marine, energy, electronics, etc. The idea is to bring together the adhesive makers and the adhesive users to exchange experiences and facilitate potential synergies and partnerships.

Deadline for Submission of Abstracts
3 November 2023

Notification of Acceptance to Authors
17 November 2023

Early bird registration
8 December 2023

Submission of full length papers
(not compulsory to submit a full length paper)
7 March 2024

Call for Papers
Abstract template
Abstracts should be sent electronically to Lucas F M da Silva at lucas@fe.up.pt. Indicate in the email if you want oral or poster presentation.

Registration
Registration form