Back to Events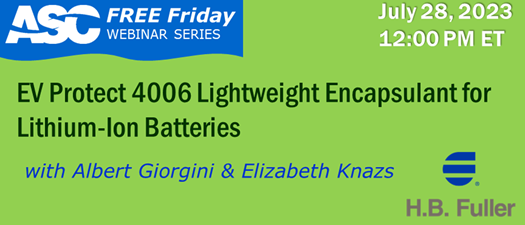 EV Protect 4006 Lightweight Encapsulant for Lithium-Ion Batteries - FREE
2023 ASC Innovation Award WINNER
Friday, July 28, 2023
You will receive an email with a link to the GoToWebinar form once your registration is processed
* Registration open until 7/28/23 at 12:30 PM (EST)
Event Details
This a Free to Attend webinar for everyone.
Attend this Free webinar from the Innovation Award winners Albert Giorgini and Elizabeth Knazs from H.B.Fuller. The winning technology described as semi-structural and structural flame-retardant light weight foam provides fire protection and structural properties for battery modules. These encapsulations help build a safer vehicle for the future, by providing protection against severe damage to the vehicle, and adding an additional layer of protection to first responders/vehicle occupants. This layer of protection allows more time to respond when a thermal runaway fire event occurs and in severe fire events reduction/delaying thermal propagation.
Learning Objective:
The safety hazards of lithium batteries
How polyurethane encapsulants can make Lithium ion batteries safer
How Polyurethane encapsulants can improve overall battery performance
H.B. Fuller innovative solutions for EV batteries
Agenda
H.B. Fuller at a glance
Intro to H.B. Fuller e-Mobility Solutions
Fire Protection Encapsulation
Questions
Who Should Attend:
This free to attend webinar is most applicable to everyone in working in or closely related to the Transportation sector. Technology managers, chemists, scientists and professionals in roles such as R&D, manufacturing, process/engineering, and technical service & applications will learn about this new technology and greatly benefit from it.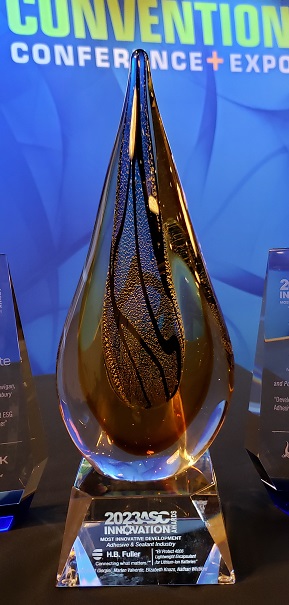 SPEAKERS
Albert Giorgini
Manager/Research Fellow, H.B. Fuller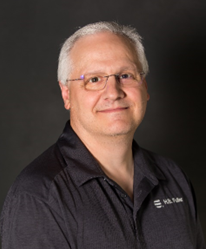 Albert Giorgini is a Manager/Research Fellow with the H.B. Fuller Company and has over 35 years of R&D experience in developing adhesives for Aerospace, Automotive, Medical, and other industrial applications. His primary material focus is the development of epoxy, polyurethane, and acrylate products for structural applications and composites. Currently he is leading a team of scientists focused on developing new materials for BEV applications.
---
Elizabeth Knazs
Business Development Manager –OEM/Electric Vehicles/Battery, H.B. Fuller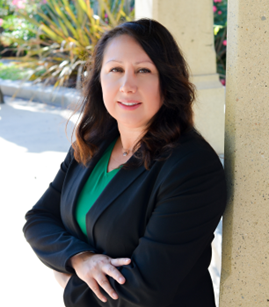 With over 20 year of experience in the Chemical industry working with adhesive and sealants in several different industries. Elizabeth has held a variety of position while working at Dow Chemical ranging from analytical chemist, Application Specialist, Technical Service, Quality Coordinator, Quality/Analytical Leader and now focused on electric vehicles and batteries at H.B. Fuller. She is focused on helping create innovative solutions in new markets and has received 3 patents and several awards. Elizabeth is focused on providing innovation adhesive technologies for the electrical vehicle and battery market and is passionate about providing solution to solve tomorrow's challenges. Elizabeth holds a Bachelor of Science Degree in Chemistry from Louisiana State University.