Back to Events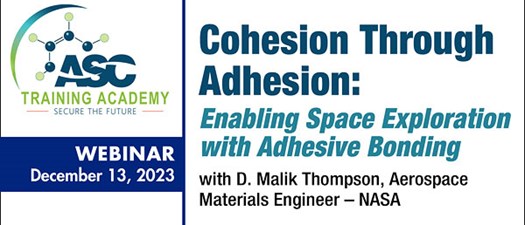 Cohesion Through Adhesion: Enabling Space Exploration with Adhesive Bonding
Wednesday, December 13, 2023
10:00 AM - 11:00 AM (EST)
You will receive an email with a link to the GoToWebinar form once your registration is processed
Event Details
Abstract:
Today NASA continues to push the bounds of deep space exploration by developing and manufacturing space systems for interplanetary travel. This requires innovation and extensive testing to expand the limits of materials within the aerospace industry to meet the needs of present and future goals for the agency. Every launch vehicle and spacecraft relies heavily on nonmetallic materials such as adhesives and sealants to bolster their functionality while withstanding some of the harshest environments ever encountered. To meet its goals, from establishing a sustained presence on the moon to numerous scientific missions across the solar system, cutting edge approaches have been devised to test these materials for their viability in space applications. This webinar will include some of the many adhesives and sealing applications used in NASA as well as an overview of some of the technical needs of the agency as we continue to venture where no human has gone before.

Agenda:
Introduction to Marshall Space Flight Center
Marshall Programs
Why Design With Adhesives?
Adhesive Downselection and Qualification for Flight
Process Controls for Best Practices
Environments: Meeting the Demands
Case Study: Imaging X-ray Polarimetry Explorer
Lessons Learned
Future Challenges


Who Should Attend:
This webinar is highly applicable to the innovators of adhesives and sealants curious to learn about the next application of their formulation. Anyone with general curiosity about the space exploration program at NASA will find the webinar valuable.
SPEAKER
D. Malik Thompson - Aerospace Materials Engineer
NASA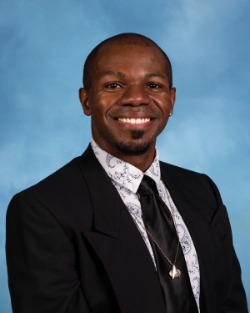 After graduating from the University of South Carolina in 2018, Malik Thompson joined NASA's Marshall Space Flight Center as an Aerospace Materials Engineer. In the time that followed he s spent the predominant amount of time immersed in the technical areas of Thermal Protection Systems (TPS), adhesives and seals, and other polymeric material applications used in the manufacturing of launch vehicles and spacecraft alike. Thompson has functioned as the Commercial Crew Program's Launch Vehicle Thermal Protection System Subsystem Manager working with SpaceX and the United Launch Alliance to certify their launch vehicles for human spaceflight to carry astronauts to the International Space Station. Additionally, Thompson has provided TPS insight and adhesive support for launch vehicle production in the Artemis Program. Thompson has also led the materials wing of an adhesive failure investigation in the Imaging X-ray Polarimetry Explorer program earning him numerous recommendations.