Back to Events
2024 Polyurethane Short Course
Monday, April 15, 2024
to Tuesday, April 16, 2024
Omni Louisville Hotel  400 South 2nd Street Louisville, KY 40202
* Registration open until 3/29/24 at 12:00 AM (EST)
Event Details
Co-located with the 2024 Convention & EXPO is a two day Polyurethane Short Course. that takes place April 15-16, 2024.
Polyurethanes are one of the most versatile chemistries used in many adhesive applications due to their outstanding ability to bond a variety of substrates in both rigid and flexible applications. With versatility, however, comes complexity. Optimization of urethane technology is enhanced by a thorough understanding of the reactions between isocyanates, diols, chain extenders and the resulting morphology. This intensive two day short course will cover the chemistry and technology behind 1 and 2 part polyurethane adhesives and sealants including markets, raw materials, reactions, formulating, fundamentals of adhesion, polymer science and physical testing. The content, delivered by experts in the field, along with discussions and networking of peers, suppliers, and manufacturers will present an opportunity to advance your knowledge on how to design, select, apply and trouble shoot polyurethane adhesive package and ultimately add to your bottom line.
The Polyurethanes Short Course is designed to provide technical professionals a better understanding of the chemistry, technology and fundamentals of polyurethane adhesive and sealants. A knowledge of chemistry is required for full appreciation of course content. Technically oriented business professionals will broaden their knowledge, expand their network and meet the next movers and shakers in the supplier, formulating and end user community.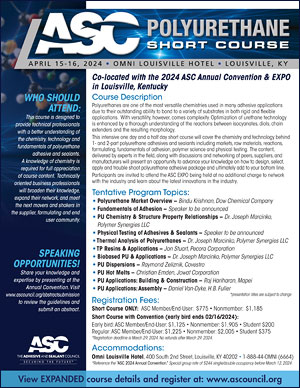 Download a Handout to distribute internally.

NOTE: Short course participants are invited to join the industry at the Welcome Reception Monday evening April 15th and the EXPO on Tuesday night to network with the industry.

Registration Fees:
Short Course ONLY: ASC Member/End-User: $775 • Non-member: $1,185 • Student: $200
Short Course COMBO (Convention + Short Course): ASC Member/End-User: $1,125 (early bird rate) • Nonmember: $1,905 (early bird rate)

NOTE: if you are registering for the convention and the short course you MUST select the 'Convention Combo Fee' to register for the convention at the discounted rate.
*Early bird combo rates expire on February 16, 2024. No refunds after March 29, 2024.


Please click on the REGISTER button above to register.
HOTEL ACCOMMODATIONS
Omni Louisville Hotel 
400 South 2nd Street
Louisville, KY 40202
Phone: 1-888-44-OMNI (6664) reference the "ASC 2024 Annual Convention"
Rate: $244 Single/Double 

Click here to make your hotel reservation!
Hotel Reservation Deadline:  March 12, 2024 

This short course is a Green Course - all course materials will be available for electronic download by attendees.
Polyurethane Market Overview – Bindu Krishnan, Dow Chemical Company
Fundamentals of Adhesion – Speaker to be announced
PU Chemistry & Structure Property Relationships – Dr. Joseph Marcinko, Polymer Synergies LLC
Physical Testing of Adhesives & Sealants – Speaker to be announced
Thermal Analysis of Polyurethanes – Dr. Joseph Marcinko, Polymer Synergies LLC
STP resins & Applications – Jon Stuart, Pecora Corporation
Biobased PU & Applications – Dr. Joseph Marcinko, Polymer Synergies LLC
PU Dispersions – Raymond Zeliznik, Covestro
PU Hot Melts – Christian Emden, Jowat Corporation
PU Applications: Building & Construction – Raj Hariharan, Mapei
PU Applications: Assembly – Daniel Van-Dyke, H.B. Fuller
*presentation titles are subject to change