Back to Events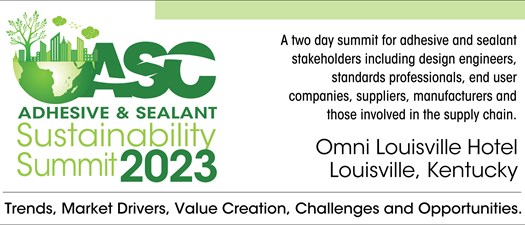 2023 Sustainability Summit
Monday, September 18, 2023
at
5:00 PM (EDT)
to Wednesday, September 20, 2023 at 3:00 PM (EDT)
* Registration open until 8/29/23 at 12:00 AM ()
Event Details
This two-day summit will provide an understanding of sustainability concepts applicable to the adhesive and sealant industry, including case studies, stakeholder partnerships and perspectives, and existing challenges and opportunities among the covered presentations.
Who Should Attend
This industry summit is ideal for business, marketing and technical professionals responsible for setting strategic goals and metrics, leading or managing their company's sustainability program, downstream end users, academia, and those who are seeking to learn more about sustainability's role within the adhesive and sealant industry.
Agenda & Topics
Tentative Schedule:
Monday, September 18 (6 – 7 p.m) – Meet and Greet Networking Reception
Tuesday, September 19 (7:00 a.m. to 8:30 p.m.) – Summit & Presentations with a Networking Reception at the end of the day.
Wednesday, September 20 (8:00 a.m. to 3:30 p.m.) – Summit & Presentations
Tentative Topics:
Introduction to What is Sustainability
Adhesive and Sealant Applicability
Challenges and Opportunities Within the Adhesive and Sealant Value Chain
Regulatory and Compliance
End User Needs & Challenges (panel discussion)
NGO Perspective on Sustainability
Retailer Sustainability Programs & Perspectives
Materials Selection in Product Design
Academia Perspectives: Sustainable Adhesives from Bio-Based Feedstocks and Biomimetic Chemistry, Jonathan Wilker, Professor, Purdue University
Raw Materials
Would You Like to Present?
If you are interested in presenting at the summit, please submit an abstract HERE.
If you have questions, please contact Malinda Armstrong at Malinda.Armstrong@ascouncil.org.
Fees
ASC Member/End-User: $675 (per person)
Group rate (3 or more) - $575 (per person)
(must be processed together in order to receive the discount)
Nonmember: $975
Student/Press: $350
Note: Regular registration ENDS August 28, 2023. Rates go up 20% after August 28. No refunds after August 28.
Sponsorships & Tabletop Exhibits
REACH THE INDUSTRY AS AN EXHIBITOR OR SPONSOR!
Tabletop exhibit spaces are available to suppliers and service providers looking to dialogue with the industry and feature their products and services related to Green Chemistry and Sustainability.
Bonus: exhibitors receive discounted registration!
Cost: $650 - Tabletop exhibit space includes six-foot table, tablecloth, chairs, wastebasket.
Sponsorships are available to increase your exposure during pre-event marketing and during the event, showing your company's commitment to sustainability and green chemistry initiatives for the industry.
Contact Malinda Armstrong for more information and to reserve your sponsorship or exhibit space today.
Accommodations
Omni Louisville Hotel
400 South 2nd Street
Louisville, KY 40202
Phone: 1-888-44-OMNI (6664) [reference the "ASC Sustainability Summit"
ASC Discounted Group Rate: $209 Single/Double
Registration Deadline: Monday, August 28, 2023
Reserve Your Room at the group rate. The hotel and does not work with third parties working on behalf of the hotel and/or the Council. Be sure you contact the hotel directly. Also, ASC does NOT sell attendee lists from an ASC event to third parties.
The group rate is available until 5:00 p.m. ET on August 28, 2023. Reserve your room as soon as possible as the group rate will not be available if the ASC room block sells out prior to the deadline. Reservation requests received after August 28 will be charged standard rates as rooms are available. If you call the hotel directly be sure to mention that you are attending the ASC 2023 Sustainability Summit to receive the discounted rate.
ASC kindly asks that you only reserve the number of rooms you need, so other attendees will not be turned away because the ASC hotel room block is full. We appreciate your consideration.
Photos from the 2022 Sustainability Forum in Pittsburgh: