Back to Events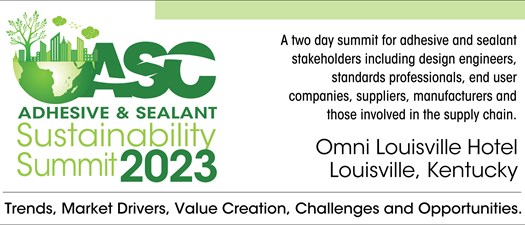 2023 Sustainability Summit
Monday, September 18, 2023
* Registration open until 9/15/23 at 12:00 AM (EST)
Event Details
Help Map the Future of Sustainability for Your Company and the Industry!
About the Summit
This two-day summit will provide an understanding of sustainability concepts applicable to the adhesive and sealant industry, including case studies, stakeholder partnerships and perspectives, and existing challenges and opportunities among the covered presentations.
Who Should Attend

This industry summit is ideal for business, marketing and technical professionals responsible for setting strategic goals and metrics, leading or managing their company's sustainability program, downstream end users, academia, and those who are seeking to learn more about sustainability's role within the adhesive and sealant industry.
Review the Final Program

If you have questions, please contact Malinda Armstrong at Malinda.Armstrong@ascouncil.org.
Registration Fees
ASC Member/End-User: $675 (per person)
Group rate (3 or more) - $575 (per person)
(must be processed together in order to receive the discount)
Nonmember: $975
Student/Press: $350
Note: Regular registration ENDS August 28, 2023. Rates go up 20% after August 28. No refunds after August 28.
View

Profile
Bill Allmond
President
Adhesive and Sealant Council Ken Alston
Circular Economy Implementation Expert
Circularity Edge
View

Profile
Malinda Armstrong
Senior Director, Meetings and Expositions
Adhesive and Sealant Council Christina Austin
Corporate Communications and Sustainability Manager
tesa tape inc. Shannon Belfield
Sustainability Specialist
Sustainable Solutions Corporation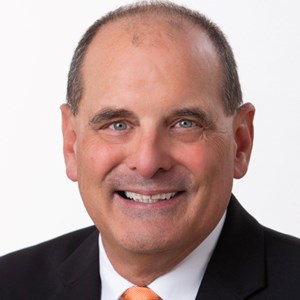 John Brandt
Technical Manager, Adhesives and Sealants, North America
Covestro Kristi Brown
Associate Program Manager
Tremco Construction Products Group Oriane Caracatsanis
Assistant Product Line Manager
Bostik Eric Dumain
Global Marketing Director
Arkema Maria Dunn
Head of EST ESG & Sustainability
Phillips 66 Traci Finkelmeier
Director
Shurtape Technologies, LLC Rachel Freedman
Principal Member
GluECO ADHESIVES LLC Alexandre Galves
Sales Manager
Kraton Corporation Gloriamar Gamez
Senior Sustainability Manager North America
Henkel Gabriel Garcia
Sales Account Manager
TRECORA Alyssa Garreau
Scientist
Oliver Healthcare Packaging Patrick Gaughan
President
APS Grupa, LLC Brad Girard
Packaging Engineer
The Gorilla Glue Company Jamil Hadla
Senior process quality
Worthen Industries, Inc. Shaye Hardner
Sustainability Manager
Worthen Industries, Inc. View

Profile
Connie Howe
Consultant, Technical Services & Sustainability
Adhesive and Sealant Council Christopher Johnson
Applications Chemist
Ingevity Brian Johnston
R&D Manager
Soudal David Keely
Field Tech Service Manager
Dow (HMA Plastics & Specialty Plastics) Becky Kristopeit
CO2/Footprint Reduction
Henkel Peter Loggenberg
Chief Commercial and Sustainability Officer
TRECORA Sanjay Luthra
Global Marketing Manager, Building & Construction
Arkema Nichole Makrides
Associate Engineer, R&D
The Gorilla Glue Company David Marshall
Sustainability Manager
Worthen Industries, Inc. Mike McCormick
Director of New Business Development
MGM Business Partners Ann McMillan
EHS/ISO Manager
STI Polymer Nicole Meyer
Account Manager
Sustainable Solutions Corporation Nolan Mitchell
Research Scientist
Bostik Salvatore Monte
President
Kenrich Petrocehmicals, Inc. Rusty Napier
VP Innovation and Technology
APS Grupa, LLC Karen Parker
Editor
ASI magazine Barbara Pereta
Sourcing Analyst
H.B. Fuller George Pilcher
Vice President
The ChemQuest Group, Inc. Nagesh Potluri
VP R&D
Nano Catalytics, Inc.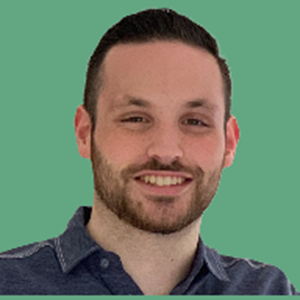 Alex Rosen
VP, Operations
GluECO Adhesives LLC Daniel Rosen
President/CEO
GluECO Adhesives LLC Giancarlo Santana Roxo
NAM Business Manager
Braskem America James Smith
Head of Marketing
tesa tape inc. David Stewart
S&T CASE Director
Imerys USA Leah Sullivan
Business Development Manager
Munzing James Swope
Chief Commercial Officer
The ChemQuest Group, Inc. Marcello D. Villahoz
Senior Director
TRECORA Luke Villermin
Adhesions Account Manager
ExxonMobil Chemical Company David White
Senior Vice President
Sika Corporation Jonathan Wilker
Professor
Purdue University Amy Woodard
Manager, PMO and Compliance
Tremco Construction Products Group Quentin Yan
Business Development Manager
Tesa Tape Inc. Katelyn Zachritz
Director, Specialty Solvents Marketing
Phillips 66
13 Other Registered Attendees
Sponsorships & Tabletop Exhibits
REACH THE INDUSTRY AS AN EXHIBITOR OR SPONSOR!
Tabletop exhibit spaces are available to suppliers and service providers looking to dialogue with the industry and feature their products and services related to Green Chemistry and Sustainability.
Bonus: exhibitors receive discounted registration!
Cost: $650 - Tabletop exhibit space includes six-foot table, tablecloth, chairs, wastebasket.
Sponsorships are available to increase your exposure during pre-event marketing and during the event, showing your company's commitment to sustainability and green chemistry initiatives for the industry.
Contact Malinda Armstrong for more information and to reserve your sponsorship or exhibit space today.
Accommodations
Omni Louisville Hotel
400 South 2nd Street
Louisville, KY 40202
Phone: 1-888-44-OMNI (6664) [reference the "ASC Sustainability Summit"
ASC Discounted Group Rate: $209 Single/Double
Registration Deadline: Monday, August 28, 2023
Reserve Your Room at the group rate. The hotel and does not work with third parties working on behalf of the hotel and/or the Council. Be sure you contact the hotel directly. Also, ASC does NOT sell attendee lists from an ASC event to third parties.
The group rate is available until 5:00 p.m. ET on August 28, 2023. Reserve your room as soon as possible as the group rate will not be available if the ASC room block sells out prior to the deadline. Reservation requests received after August 28 will be charged standard rates as rooms are available. If you call the hotel directly be sure to mention that you are attending the ASC 2023 Sustainability Summit to receive the discounted rate.
ASC kindly asks that you only reserve the number of rooms you need, so other attendees will not be turned away because the ASC hotel room block is full. We appreciate your consideration.
Photos from the 2022 Sustainability Forum in Pittsburgh: