2024 Annual Convention and Expo
April 15-17, 2024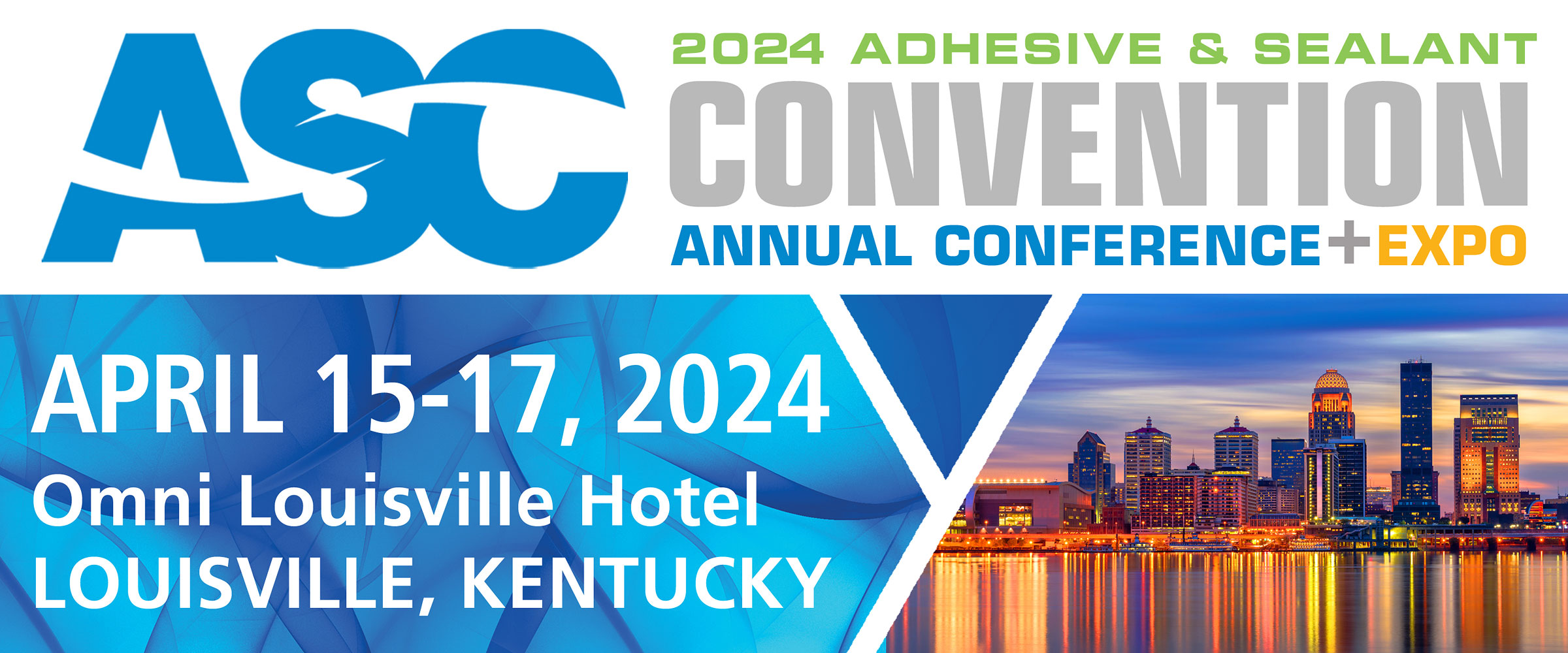 ASC Annual Convention & EXPO will be held April 15-17, 2024, at the Omni Louisville Hotel.  This three-day event will include concurrent technical sessions focusing on business development and market trends, regulatory, market segments and new/advanced technology/applications. 
 The EXPO will be held on Tuesday, April 16, 2024, from 3:00-6:30pm and will feature over 100+ exhibitors. Click on the EXPO link for additional information. 
WHO WOULD BENEFIT
The Adhesive and Sealant Council's 2024 Annual Convention & EXPO is the only event this year that you will have an opportunity to network with more than 500+ industry leaders from all levels and departments of large and small adhesive and sealant manufacturer and supplier companies worldwide.  The attendee profile consists of upper-level management (CEO/VP), technical/R&D, sales & marketing, plant operations, and business development. 
Submit a presentation proposal (abstract) for inclusion in the 2024 Annual Convention program. ASC will host a Polyurethane and TBD Short Courses that will run concurrent with the convention. Session speakers in these areas are needed.
High-level technical abstracts are being solicited across adhesive and sealant markets, technologies, and chemistries. Submitters can select from one of the suggested topics below to assist the programming committee to track sessions of related topics or submit a topic of high interest to our industry.
Criteria for Acceptance:
Improved, new or novel material, approach or application of adhesives, sealants, and periphery technologies. High level technical or business development topics without any commercial/promotional content; any abstracts that contain tradenames in title, description or abstract will not be considered. All resulting presentations must be original, first time published, highlighting recent work.
Speaking opportunities at ASC 2024 conference will be competitive. Abstracts are expected to clearly describe the advancements made and importance to industry, with high level technical content beyond common knowledge. All abstracts submitted are peer reviewed by ASC's technical programming committee. The top-rated candidates will be invited to speak on or before January 16th.
Don't see your topic of interest? Help ASC address your company needs - submit an abstract based on new technology or insight relevant to the adhesive and sealant industry.
Deadline for submit an abstract is December 15, 2023.
CLICK HERE TO SUBMIT AN ABSTRACT!
The EXPO will be held on Tuesday, April 16, 2024 from 3:00 to 6:30 p.m. The Annual EXPO is intended for all suppliers, manufacturers, and service providers for the adhesive and sealant industry. This is your company's chance to showcase its products and services to buyers and decision makers, network face to face, share information and discuss the latest technologies. The EXPO allows you to CONNECT with the industry. With exclusive "EXPO Only" hours and traffic builders, such as an Exhibitor Appreciation Reception and door prizes, the exhibit hall is an effective and efficient way for companies to market their products and services.
Interested in exhibiting, click here to review the floorplan. Click here to reserve a booth today!
REGISTRATION FEES:
Members/End Users: $995 per person (early) & $1095 regular after 02/17/2023  
Non-members: $1895 per person (early) & $1995 regular after 02/17/2023
Speaker ONLY: $545
Short course speakers ONLY: $545
EXPO ONLY: $495 *does not include sessions*
One day: Member/End Users: $645/Nonmembers $1140
Trade Press: $550
Regular rate registration deadline: March 29, 2024
 REGISTRATION DEADLINE / CANCELLATION POLICY:
The regular rate registration ends March 29, 2024. Fees will increase by 20% afterwards for any registrations. On-site registrations are welcome. Additionally, there are no refunds after March 29, 2024.

Liability Disclaimer: The Adhesive and Sealant Council (ASC) claims no liability for the acts of any participant at this meeting, nor for the safety of any person participating in, or in transit to, or from this event. Please review ASC's Conference Code of Conduct. The ASC reserves the right to cancel any function without penalty. The total amount of any liability of the ASC, in the event of cancellation, will be limited to a refund of the registration fee.
Visit the official www.ascouncil.org website for all program information.
HOTEL ACCOMMODATIONS
Omni Louisville Hotel 
400 South 2nd Street
Louisville, KY 40202
Phone: 1-888-44-OMNI (6664) [reference the "ASC 2024 Annual Convention"

Rate: $244 Single/Double 
Hotel Reservation Deadline:  March 12, 2024 
Involving your company in pre-convention and onsite promotion can increase visibility and market recognition while demonstrating your support of the adhesive and sealant industry.  Click here for available sponsorship and advertisement opportunities! 
Questions? Contact Malinda Armstrong, Senior Director, Meetings & Expositions at malinda.armstrong@ascouncil.org. 
IF YOU ARE ATTENDING THE SHORT COURSE OR SHORT COURSE WITH CONVENTION YOU MUST REGISTER UNDER THE SHORT COURSE.
ASC will host a Polyurethane and TBD Short Courses that will run concurrent with the convention. Session speakers in these areas are needed.
To register, please click here.
If you are registering for the short course with convention, please select short course only along with the convention add on pricing under the short course.
Sunday Welcome reception will be held at the Kentucky Derby Museum. The networking opportunity is available to full paid attendees. Buses will depart the hotel at 5:30pm.

Community Service Project will be held on Monday, April 15 from noon to 4:30pm. Project details are forthcoming.